In the meantime we have been allocated a camp area! It is a meadow area in Goldenstedt, directly next to the Hartensbergsee area.
The address for the navigation system is Dohlenstiege 1, 49424 Goldenstedt.
Coordinates for Maps: 52.78948352374373, 8.450580727127411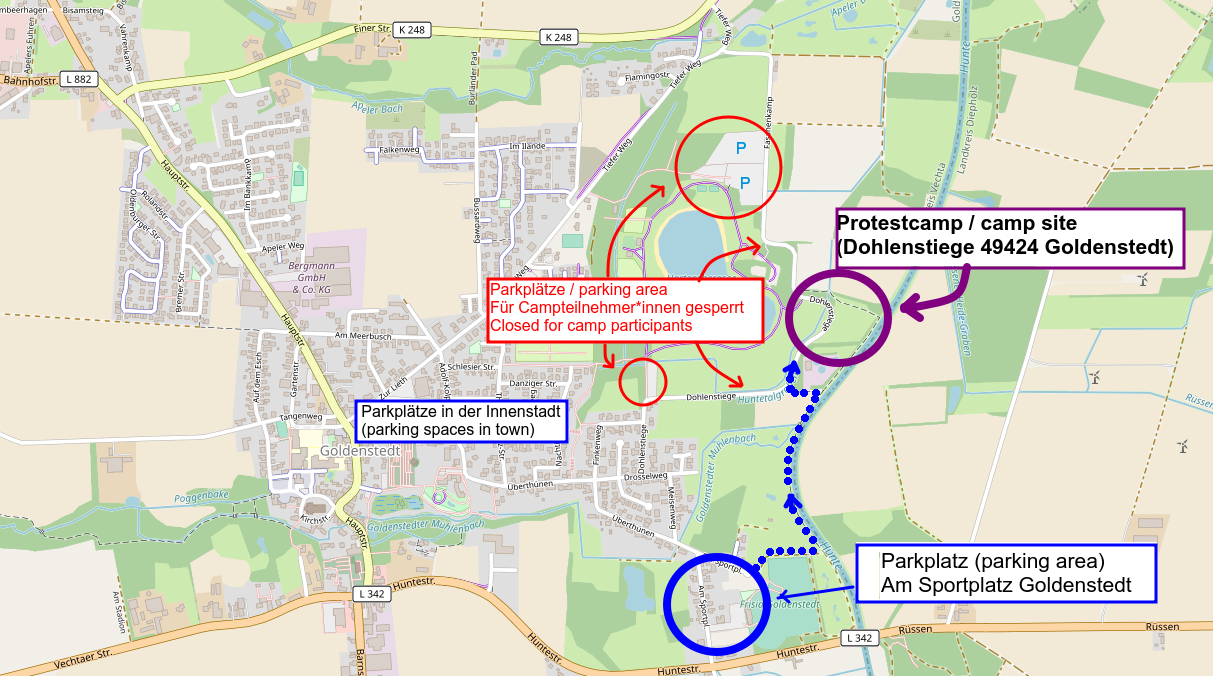 Arrival by train
The nearest train station is Goldenstedt station. We organise a shuttle from the station. Please contact the phone number 0157-79171735.
Arrival by car
Due to district regulations, all parking facilities in the immediate vicinity of the camp site are closed. Parking on the camp site is not possible. The nearest parking facilities are in the centre of Goldenstedt and the public car park at the sports ground (15-20 minutes walk to the camp site in each case).
Campers please contact the info point for further information.
Infopoint
You can use the following number from Saturday, July 10th, 21st for travel questions and problems:
0157 79171735
Legal matters on arrival
You can contact the following EA number if there are legal questions / matters upon arrival: EA number:
0049 (0) 30 8632140 61
Ridesharing
there is a non-moderated ridesharing exchange at Telegram:
https://t.me/mitfahrenPHWade
Please note that with Telegram it is possible for repressive organs to draw conclusions about real names and numbers. The best thing to do is to ensure that the telephone number is not visible in the Telegram security settings.
Solibus from Berlin to the camp!
A bus will take us from Berlin to Lower Saxony to the camp and mass action of the alliance 'Together against the animal industry'. And also back!
Date and time: The bus will leave Berlin on Tuesday 13 July at 10 am and return from the camp on Saturday 17 July (return time not yet fixed). Departure point is available upon registration. The bus is barrier-free with lift (1x wheelchair place fixed, more with convert possible). It will be a Corona-compliant trip and it is possible to travel one-way or roundtrip. Due to the planning, it would be important if you can let us know in advance.
Money: It's a solibus and we want to cover as much of the costs as possible. But we also want you to be able to come if you don't have any money. Therefore our recommendation would be to pay 15 € per trip. The soli contribution would be 20 €. At 10 € the costs would be almost covered with a full bus. Therefore, it would be very nice to proceed according to the principle 'they who have, give' ('Wer hat der*die gibt'). Please bring the money in cash to the departure. For our estimation, please write us at the registration what you want to pay.
Registration: If you want to join us, please send us an email to: berlin-solibus@gemeinsam-gegen-die-tierindustrie.org (PGP Key here)