For a
solidarity-based
and ecological
agricultural turn
PHW Ade
Action Camp
workshops | children's programme | networking
Gemeinsam gegen die Tierindustrie
Climate change is advancing at an alarming rate, the Amazon rainforest is burning continuously and more and more ecosystems are collapsing.
The animal industry is a significant contributor to this.
Forests are demolished and huge areas are cultivated with industrial monocultures in order to produce animal feed. Liquid manure and dung contaminate ground and surface water, while workers have to slave away in stables, slaughterhouses and meat processing plants under inhumane conditions.
Sentient animals are treated as mere commodities. They suffer immensely. In many parts of the world, the animal industry increases the price of staple foods and access to land, leading to hunger.
In the midst of the ecological crisis, agricultural and meat companies are achieving record sales at the expense of humans, animals and the future of us all –

This is a scandal!
The spread of the "corona virus" SARS-Cov-2 is currently affecting all of our lives and cannot be ignored as a current global crisis. We all cannot yet foresee how the situation will develop in the next months. Therefore, we must postpone our planned mass action against PHW for this June with a heavy heart. Because even if by then such an action should be possible again, to prepare and to mobilize for it is very hard in the current situation.
In the meantime, as an alliance, we will continue working on our topic, trying out new (digital) forms of action and also continue to grow – in terms of personnel and content. So that we can all endure the current, challenging conditions and in the future will be able to fight against the animal industry, against the climate crisis and against oppression and exploitation with all the more power! We're going to observe new opportunity windows that arise in these times of change and exchange information with other movements about it. Nevertheless, our confidence to stand up against the animal industry is urgent and we are doing everything we can to prepare the camp and the mass action for 2021, and then next year – if circumstances permit – we will be all the more energetic and powerful!
So stay tuned, we'll keep you posted. Until then: stay healthy, stay alert for authoritarian actions, stay active, be in solidarity and take care of yourselves!
Together with the Animal Rights Initiative Vechta, we are organising an open networking meeting in Vechta on 9 March. We want to get together in a relaxed atmosphere from 7 p.m. onwards and network with other activists from the region.
We will report about our current planning status and talk about participation possibilities. There will also be room for your questions and discussions.
When: Monday, March 9th, 7 pm
Where: Room E 033, University of Vechta (https://osm.org/go/0Gb9Z6wkE-?m=)
If you have any questions, please send us a mail in advance: mail@gemeinsam-gegen-die-tierindustrie.de
Below is our invitation text, which you are welcome to forward to interested parties:
Alliance "Gemeinsam gegen die Tierindustrie": Networking meeting in Vechta on 09. March (19 Uhr)
The alliance "Gemeinsam gegen die Tierindustrie" is planning a protest camp in Visbek-Rechterfeld for 13th to 20th June 2020! This is where the PHW Group has its headquarters: with its brands Wiesenhof, Bruzzzler and Co. it is the largest German poultry breeder and processor. PHW and the animal industry are recording record sales and growth rates, while the workers* in the factories have to slave away under inhumane conditions, the Amazon rainforest is constantly burning for new areas of feed and fuels climate change, and undercover research in animal factories brings to light appalling conditions again and again. This is a scandal!
We are a broad alliance of groups and people who want to stand together in the way of the animal industry. You are also already active against the animal industry, for climate and environmental protection or against exploitation? Or you have been waiting for a long time for an opportunity to become active and you are curious what we have in mind? We would love to meet you at our open networking meeting in Vechta on 09 March! On this evening, starting at 7 pm, we will present the alliance and the current planning status. In a relaxed atmosphere we can talk about possible questions and participation possibilities.
When: Monday, March 9th 7 pm
Where: University of Vechta (exact location to be announced)If you have any questions, please send us an email in advance: mail(at)gemeinsam-gegen-die-tierindustrie.org
You can find further information on our homepage: https://gemeinsam-gegen-die-tierindustrie.org
See you soon!
Animal Rights Initiative Vechta and Gemeinsam gegen die Tierindustrie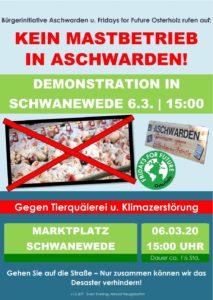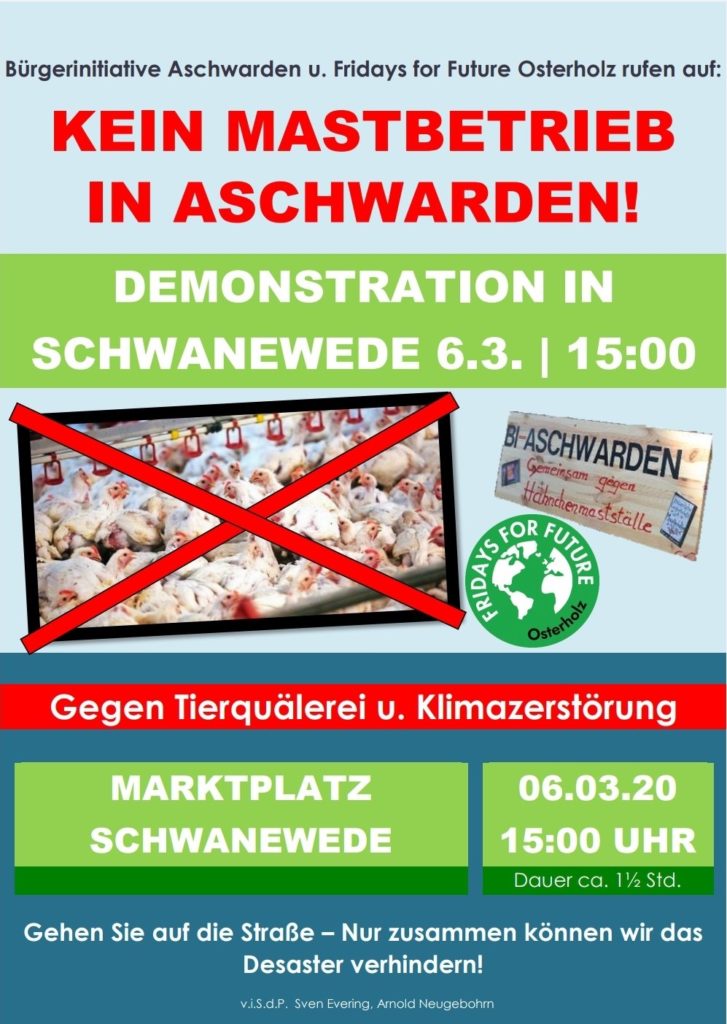 The citizens' initiative Aschwarden northwest of Bremen is calling for a demonstration against the planned construction of a meadow farm fattening farm for about 30,000 animals on Friday, March 6, together with Fridays for Future Osterholz. Activists from our alliance will also take part!
Here the flyer for the demonstration only in german: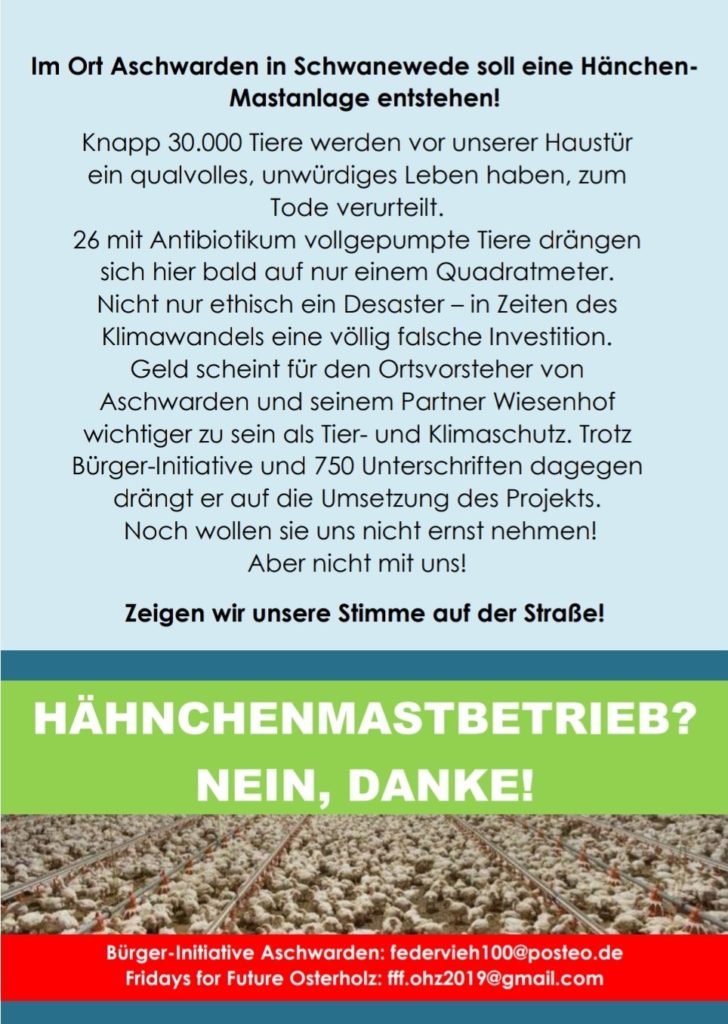 Below is the call for the demonstration:
In the village of Aschwarden in Schwanewede a chicken fattening facility is to be built! Nearly 30,000 animals will have an agonizing, unworthy life on our doorstep, condemned to death. 26 animals pumped full of antibiotics will soon be crowded together here on just one square meter. Not only an ethical disaster – in times of climate change a completely wrong investment. Money seems to be more important to the local head of Aschwarden and his partner Wiesenhof than animal and climate protection. Despite a citizens' initiative and 750 signatures against it, he is pushing for the project to be implemented. They do not yet want to take us seriously! But not us!
Let us show our voice on the street!
Citizens' Initiative Ashwarden: federvieh100@posteo.de
Fridays for Future Easterwood: fff.ohz2019@gmail.com
https://twitter.com/fff_osterholz/status/1235089698885902337
Further information about the demonstration and background information can be found in the following newspaper article:
https://www.weser-kurier.de/region/die-norddeutsche_artikel,-demonstration-gegen-haehnchenmast-_arid,1899904.html
Material
The animal industry spends billions every year to make profits from exploitation.
Let's stand against this!
We support By2020WeRiseUp!
Our action will be part of the third wave of actions in early summer 2020.